The Ultimate Guide to Things to Do in Hurghada
May 30
If you're seeking adventure and fun in the beautiful land of Egypt, Hurghada is the place to be! Known for its
breathtaking beaches
, rich cultural heritage, and marine life, this fascinating city is a hub of excitement for travellers and adventure seekers. So, if you're planning a trip to Hurghada but have no idea where to begin, fret not; we've got you covered! In this comprehensive guide, we'll take you through some of the best things to do in Hurghada and help you make the most of your trip. From diving in the Red Sea to exploring ancient temples and indulging in mouthwatering delicacies, Hurghada is a destination that caters to all interests. So buckle up and get ready to experience the ultimate guide to things to do in Hurghada.
Introduction to Hurghada, Egypt
Hurghada, Egypt, is a stunning vacation destination on the Red Sea. Once a small fishing village, it has become a major tourist spot known for its breathtaking underwater world. This town is the perfect combination of adventure and relaxation, making it a popular destination for travellers worldwide. In Hurghada, there is no shortage of things to do and see. From exploring the desert on quads to enjoying a camel ride, every activity promises to be unforgettable. One of the must-try activities is a snorkelling tour of one of the little islands and their coral reefs surrounding the coastline of Hurghada.
Hurghada is a food lover's paradise, and one of the best things to do would be to indulge in the local cuisines. Downtown or the Marina area is where most restaurants are located. However, for a more authentic experience, head to Nunbian, situated at the Marina. It offers a wide range of delicious oriental dishes, which are also vegetarian-friendly. Finish your meal with a traditional shisha for the full Egyptian experience. Head to the Caribbean Bar at the Bella Vista Hotel for an amazing sea view. You can enjoy drinks and live music here while soaking in the stunning views.
Although Hurghada is primarily made up of resorts and hotels, you can still visit a few places for a walk. One of these is the Marina. You will find several restaurants, bars, and cafes facing numerous yachts at the port. The El Mina Mosque is another attraction near the Marina and can be visited outside the daily prayer time. However, avoiding the main street downtown would be best, which can get touristy with many shops and restaurants.
If you are looking for a luxurious experience in Hurghada, you cannot go wrong with booking a room in the Steigenberger Aqua Magic Hotel. From tanning at their private beach to getting a massage on the little island, the hotel staff will ensure you feel welcome during your stay. Hurghada is an excellent destination to connect with locals as they are happy to offer advice on the best places to visit and things to do. It is essential to check your foreign currency since some people may try to take advantage of tourists by giving them less money than they should.
Hurghada is an adventure and relaxation paradise that offers something for everyone, from stunning underwater worlds to camels riding in the desert. The Marina has some of the best dining experiences where you can indulge in local Egyptian food. While the Aqua Magic Hotel guarantees a luxurious and welcoming stay, locals can provide valuable advice while navigating through Egypt's rich culture and history. Ensure you check your change to avoid misunderstandings while dealing with foreign currency. Hurghada is the ultimate destination where you can create lasting memories.
[1]
[2]
Beaches and Resorts in Hurghada
Are you planning a trip to Hurghada? With so much to do, it can be overwhelming to decide where to start. One thing you can't miss out on is the incredible beaches and resorts. Here are some of the best ones Hurghada has to offer:
Start your beach adventure at Old Vic Beach, a beloved spot among locals and tourists. The soft sands and glistening waters will make you want to stay there all day. If you want something more exclusive, head to the Sheraton Hotel, which boasts a stunning stretch of pristine sand.
But, if you prefer to escape the crowds and have a quiet day, hop into your vehicle and drive north or south of Hurghada to find your secluded spot.
Aside from beaches, Hurghada is also famous for its world-class resort hotels. Check out one of the all-inclusive beach resorts, where you can sit back, relax, and be pampered like royalty. You'll never be bored with plenty of activities like snorkelling, diving, quad biking, and safari tours.
If you're a history buff, head to the Hurghada City Centre and Corniche. You won't find many traditional tourist sites here, but you will find a bustling hub filled with local cafes, shisha bars, and shops. For a scenic walk, head to the Marina and enjoy sweeping views of the Red Sea.
Ready to shop? Don't miss out on the Hurghada markets and souks. You'll find everything from traditional Egyptian headscarves to shisha pipes. Haggling is mandatory here, so brush up on your bargaining skills and have fun!
Love marine life but don't fancy diving or snorkelling? No problem. Visit the Hurghada Marine Museum and Aquarium. Here, you can get up close and personal with the underwater world of the Red Sea without getting wet. Explore underwater tunnels, witness feeding times, and take guided tours to learn more about the marine creatures living in the aquarium.
Last but not least, spend a day in the Giftun Islands! Just a short boat ride from Hurghada, these pristine islands boast crystal clear waters, colourful coral reefs, and diverse marine life. You can explore the islands, dip in the water, or soak up the sun on the warm sands.
Hurghada is waiting for you! With these incredible beaches and resorts, you're guaranteed to have a fantastic holiday. 
[3]
[4]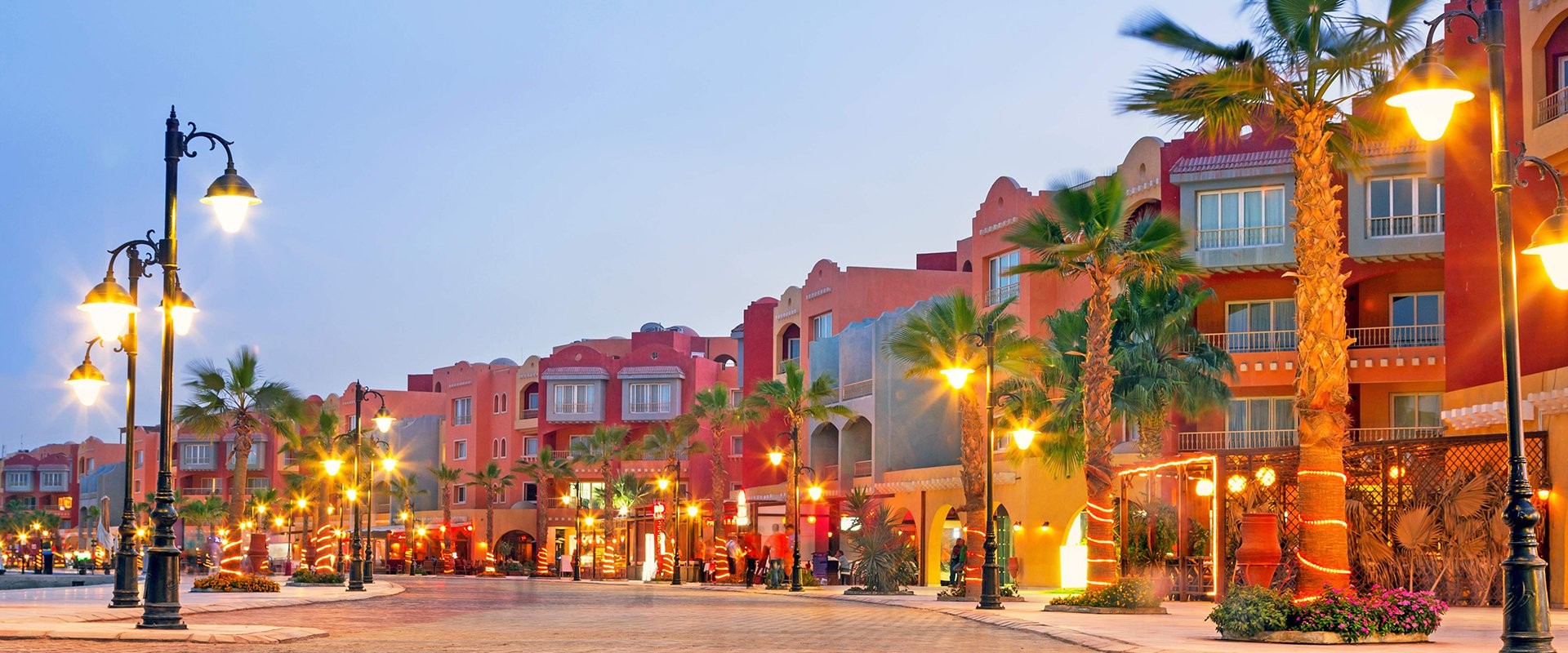 Hurghada City Centre and Corniche
Explore the lively city centre and picturesque Corniche of Hurghada! Though known for its stunning beaches, Hurghada has a lively core filled with local cafes and shops waiting to be explored. The Corniche, running along the coastline, offers sweeping views of the Red Sea, while the Marina at the water's edge provides plenty of opportunities for swimming, sunbathing, and shopping. Take in the city's sights on a tour that will take you to its beautiful Big Mosque, Church of St. Mary, and scenic port area, with free time for shopping in the colourful Hurghada souks. It's the perfect place to get lost in the vibrant atmosphere of Hurghada.
If you're looking to find a unique way to explore the vibrant marine life of Hurghada, submerge yourself beneath the surface on a submarine tour provided by Sinbad Adventures. Since 1994, visitors have been exploring the sunken treasure chests and different coral reefs up close on these exciting tours. The submarines are a fun choice for adults and children alike, with plenty of opportunities for snapping photos. The tour operators offer the best view of the marine biodiversity while keeping you dry and ready to dip into the crystal-clear waters of the Red Sea whenever you please.
Set sail to the Giftun Islands, a beautiful and serene national park, only a boat ride from Hurghada. Turquoise waters, golden sandy beaches, and various exciting attractions await. Take a banana boat ride or hop from one island to another for a day filled with fun and relaxation. Go shopping for traditional souvenirs, sip on cocktails, or grab snacks while admiring the stunning views. The Orange Bay on Giftun Islands is a must-visit – the island is accessible by boat and features plenty of activities perfect for all ages. Snorkel, swim in crystal-clear water, or relax on the sandy beach while soaking up the sun – the endless options!
Enjoying yourself in history and culture on a day trip to Cairo. The cultural city is only a short distance from Hurghada, making it an easy day trip. Visit the bustling markets for local souvenirs and explore the Egyptian Museum, home to an array of ancient artefacts. Then drive through the palm-lined streets of El Gouna before arriving in downtown Cairo. There, you'll find the famous Giza Pyramids, mosques, palaces, and other ancient sites, all waiting to be discovered. You can even take a guided tour to explore the city on foot and learn about its fascinating history. A trip to Cairo is an excellent way to see another side of Egypt while still being close to Hurghada.
Stay cool in the hot summer weather by dipping in the refreshing pool! Most hotels in Hurghada offer guests the option to swim in their pool, while some even have swim-up bars for a more relaxing experience. Soak in the refreshing water while sipping cool drinks, and beat the heat in the shade of the palm trees. You can laze around the swimming pool and enjoy the simple vacation life at an all-inclusive beach resort, making it a relaxing and refreshing way to spend your day in Hurghada.
[5]
[6]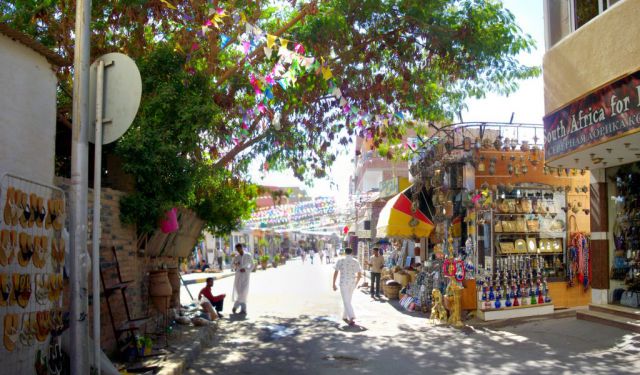 Shopping at Hurghada Markets and Souks
Would you like to experience shopping in Egypt like a local? Look no further than the markets and souks in Hurghada. With a guided tour, you can discover the city's hidden gems and find the best products from the local industries.
First and foremost, Hurghada boasts some of the country's best leather and fur clothing stores. With the latest fashion trends and high-quality genuine leather, you can snag a stylish coat or a new leather bag. Of course, you don't want to forget souvenirs for loved ones back home. Luckily, our guides can take you to the best shops for pharaonic figurines, gemstones, handmade products, and even hookah tobacco.
Spice shops are a must-visit for those who love to cook and experiment with spices. Discover natural herbs and spices like turmeric, cumin, anise, and oils like black seed and hibiscus. And if you're in the mood for something sweet, we can show you where to find the freshest locally grown fruits and vegetables. The options are endless at the bustling markets and souks of Hurghada.
As you immerse yourself in Egypt's culture and daily life, rest assured that our professional guides prioritize safety and enjoyment. With our help, you can navigate the sometimes overwhelming atmosphere of a local marketplace and feel comfortable shopping alongside the locals.
Overall, a trip to Hurghada is not complete without a visit to the markets and souks. Our tour covers you whether you're seeking the latest fashion trends or unique souvenirs. So what are you waiting for? Book now, and let us show you the best of Hurghada shopping.
[7]
[8]
Hurghada Marine Museum and Aquarium
Are you planning a trip to Hurghada? Make sure to add Hurghada Marine Museum and Aquarium to your itinerary! This incredible attraction offers a diverse collection of aquatic animals from different species, making it perfect for friends and family to experience together. The aquarium has gained a huge reputation as one of the major touristic destinations in Hurghada due to the numerous activities and attractions available.
Once you arrive at Hurghada Marine Museum and Aquarium, take some time to explore the aquarium and see all the fascinating fish worldwide. As you wander around, you'll have the chance to see them up close and personal.
If you're an adventurer at heart, you're in luck! Hurghada Marine Museum and Aquarium offer a variety of activities like snorkelling and diving so that you can get up close and personal with the marine life within its walls.
Looking to relax and take it easy? No problem! You can sit back and enjoy the scenic views of the aquarium's pristine beaches. You can also rent a Sea-Spi' glass-bottom watercraft to enjoy the gorgeous underwater scenery.
As the museum focuses on the aquatic wonderland that lies offshore, you can learn more about the world's rare coral reefs at the museum. You will find a wealth of knowledge about the Red Sea's ecological environment, including all the different species of animals like sharks and turtles that call it home.
Overall, Hurghada Marine Museum and Aquarium is a must-visit for anyone travelling to Hurghada. With its diverse collection of aquatic life, engaging activities, and breathtaking scenery, it's an adventure you won't want to miss.
[9]
[10]